3 Days/ 2 Nights: Tsavo east and west Safari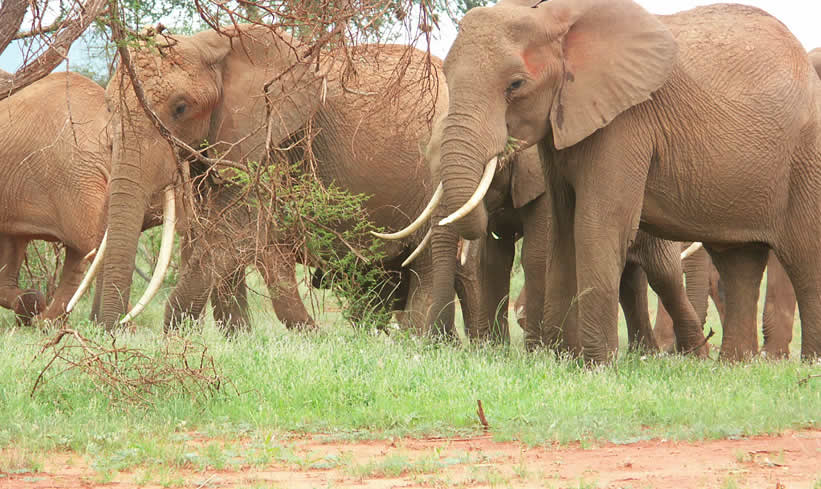 Day 1: Mombasa – Tsavo East National Park.
You will be picked up from your hotel early in the morning at 6:30 am, and drive to Tsavo east National Park through Bachuma gate. Start game drive immediately, until Lunch time; proceed to the lodge for lunch as well as check-in. Afternoon game drive searching for the big Five.
Tsavo East National Park is located 333 km from Nairobi and approximately 160 Km from Mombasa; it is one of the largest national parks in Kenya.
The park contains some fantastic terrain, including rivers, lakes, tarns, glaciers, and peaks with a wide variety of vegetation, including grasslands, acacia vegetation, open plains and savanna. It is therefore recognized as one of the world's leading bio-diversity strongholds. Some of the popular destinations within the park include the Mudanda Rock; you can view a variety of animals at this park, which includes; elephant, lion, leopard, waterbuck, kudu, gerenuk, zebra and Aruba Hunter's hartebeest. You will also observe the large herds of red elephants- they glow red due to red dust of Tsavo. There are also about 500 species of birds, including the ostrich, and migratory birds like kestrels and buzzards. Dinner and overnight at Ashnil Aruba Lodge/ Satao Camp/ Voi safari Lodge/ Voi Wildlife Lodge, (Lunch & Dinner).
Day 2: Tsavo East National Park – Tsavo West National Park.
Early morning game drives from 6:15am followed by a breakfast at 8:30am. After breakfast proceed with game drive en route to Tsavo west. Short game drives en route to the lodge for Lunch as well as check in. After lunch you will relax until 4:00pm time for an afternoon game drive at the Rhino Sanctuary until 6.00pm. Tsavo West National Park is covering a large area consisting of diverse terrains; the park stretches 9,065 square kilometers at a distance of about 240 km from Nairobi and about 255km from Mombasa. It provides diverse habitats for its animals as altitude ranges from 500 ft to 6,000 ft above sea level. There are rivers, forests, lakes, wooded grasslands and mountains, each harboring a distinct set of animals. The park became famous through the notorious "Man Eaters of Tsavo" incident at the turn of the century, when man-eating lions were preying on the workers building the great Kenya-Uganda Railway. This incident was also depicted in the popular movie "Ghost and the Darkness. Explore the Chaimu and Shetani Lava Flow. There is a quite a variety of wildlife and birdlife in the park. Over 600 species of birds have been recorded. Moreover, game viewing is fairly easy. Animals include the leopard, cheetah, buffalo, rhino, elephant, giraffe, zebra, lion, crocodile, mongoose, hyrax, dik dik and porcupine. Finally, the park offers excellent views of Mount Kilimanjaro. Dinner and Overnight at Severin Safari camp/Kilaguni Serena Safari Lodge, (Full Board).
Day 3: Tsavo West National Park – Mombasa.
Early morning game breakfast then proceed with game drive with a visit to the Mzima Springs, a major attraction here; there is a pool of natural spring water coming from underground with an underwater viewing tank from which you can observe the hippos, fish and crocodiles. After Mzima springs, you will proceed with game drive en route to Zomeni Lion Hill  Lodge for lunch. After lunch drive back Kilifi, arriving in your respective hotel in the early evening, (Breakfast & Lunch).
Safaris Departing Nairobi
Safaris Departing Mombasa